August 23rd, 2010
With my parents and my brother I went to Paris this summer. We went to Paris by train and took the Thalys from Rotterdam which is pretty close to where we live.
The train only takes up about 6 hours and all of a sudden you're in France, Paris, Gare du Nord!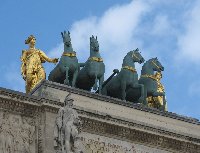 Tourism Paris
I had never been to Paris before and some of my friends already told me that I would really love it, and I did!
We went almost everwhere and did a lot of sightseeing by foot, but also by batobus, which is a great way of touring Paris because it leads you along all the major tourist attractions.
We went to see the Champs-Elysees, the Louvre, the Arc de Triomphe, the Eiffel Tower, the neighbourhood of Moulin Rouge and so much more.
We even went to visit the Roland Garros Museum but I'll write another blog to post those pictures. For everybody that is planning on a trip to Paris, you'll love it!