August 30th, 2010
As soon as I had spotted them in our Iceland Travel Guide I knew what my mission was going to be as soon as we had arrived to Vik, take pictures of puffins!
Puffins, I had never heard of them before and they remind me of a crazy and a creative mixture of a pinguin and a parrot or any other type of exotic bird.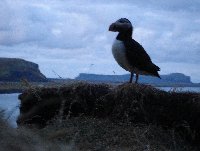 Vacation in Vik
I had read about Vik and its population of puffins that I really wanted to take their pictures in this part of Iceland.
The village of Vik, or Vík í Mýrdal to call it by its full name, is the s the southernmost village in Iceland and located on our route to Reykjavik so two good reasons, plus the puffins of course, to visit this curious place.
During our stay in Vik we also went to see the basalt sea stacks situated at the beautiful black beach under the mountain Reynisfjall also known as Reynisdrangar.
The Reynisfjall is again a very good place to take pictures of puffins as it is home to a pretty large colony of birds. Eventhough Vik is known as the wettest place in Iceland we didn't catch a drop of rain so I'll guess we were lucky!