September 4th, 2010
From Skogafoss our Iceland tour continued on the road northwest to Strokkur where we went to visit the famous Stokkur Geyser before heading to our final destination and the capital of Iceland, Reykjavik.
The Strokkur Geyser is a nice place to visit in the southwest of Iceland as it is home to a stunning landscape, some lost mud pools and of course the miraculous geyser.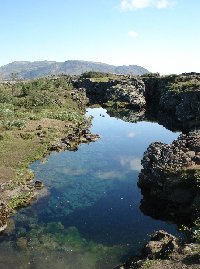 Tours Strokkur
The Strokkur Geyser is toured a lot because it's one of the last natural geysers which erupts frequently and can be visit by tourists.
The maximum height of the geyser's eruption is around twenty meters and can last up to 10 minutes!
From Strokkur we started driving towards Reykjavik but since we were taking our time we decided to take in the larger loop and visit the historical site of Thingvellir, the geothermal field of Krisuvik and of course drive to Reykjanesta to get our pictures taken at the south-westernmost tip of Iceland.