September 6th, 2010
We did a lot of adventure travel in Iceland and places like Thingvellir and many others are perfect for just that.
Thingvellir, or Þingvellir in Icelandic writing, is known for its gorgeous Þingvallavatn Lake and the remains of the original parliament of Iceland which was founded in 930.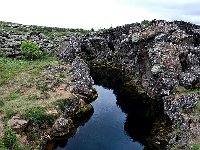 Travel Blog Thingvellir
The Thingvellir National Park actually was founded to protect these remains and turned the site of Thingvellir into a national landmark.
Þingvellir was also registered as UNESCO World Heritage Site which gave tourism around the site an enormous boost and drew more tourists to this part southwestern Iceland.
As for adventure travel southwestern Thingvellir has some great hikes to offer although it probably won't beat our Glacier Grand Slam hike in the Skaftafell National Park