October 5th, 2010
Together with a couple of good friends my partner and I have just come back from a fantastic holiday in Honolulu, Hawaii.
We had a two and a half weeks to spend in Honolulu so we decided to rent a car so that we would have the option to tour around the island.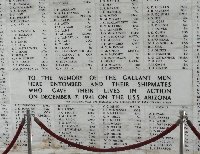 Travel Experience Honolulu
While the weather wasn't the best when we arrived this soon changed so we could enjoy our beach holiday to the fullest.
The four of us did all kinds of things together from relaxing on the beach to hiking through the inner forests of Hawaii.
We also paid a visit to Dole Plantation for a traditional Hawaii's Pineapple Experience. We got to see some amazing fruit and at the end of the tour we could finally taste a cup of the island's most famous fruit, delicious!
Back in downtown Honolulu we also went to Honolulu Harbor and my husband wanted to visit Pearl Harbor to pay his repects to the fallen soldiers at the USS Arizona Memorial.
Honolulu is the perfect location on Hawaii if you want to combine a relaxing beach holiday with some adventurous activities or cultural and historical sightseeing. We had the times of our lives and would love the come back to Honolulu in the future.