October 8th, 2010
Here are some holiday pictures of our first week in Cape Town! We had a great flight from Atlanta and were really excited about the whole thing. I had never been on a holiday out of the country so flying straight to South Africa was quite a big beal!
The weather in Cape Town is amazing, and we can still wear our shorts:) Except on the trip we made to Cape of Good Hope, the most south-western point of the African continent, where the wind was blowing or socks off and it got pretty cold.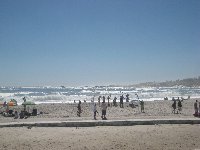 Trip to Cape Town
Besides that freezing road trip along the coast we're getting spoiled with nothing but sun, perfect conditions to enjoy Cape Town's crowded Clifton 4th Beach.
Well, they sat that South Africa is big enough to have all four seasons at the same time and I guess they're right!
We also did some sightseeing around Cape Town and the city's waterfront which was pretty cool. The waterfront turned out to be a great place to have lunch ( the view is amazing since all the restaurants are situated at the foot of Table Mountain!). We also did some shopping ( I know we're on a holiday but a girl has to shop..) and got some really nice souvenirs.
During the next days we basically relaxed a lot, enjoyed the good life in South Africa and made some trips around Cape Town.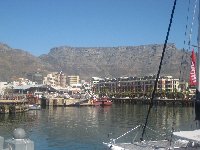 Trip to Cape Town
Yesterday we made a trip to Boulders Beach which is known to be home to the African penguin so we couldn't wait to get some pictures of these cuties. Wow, the experience was really cool and it's really special that you can get so close to the animals during the day!
As so you can see, South Africa is treating us good and we really enjoy our holiday in Cape Town. For now Tot Siens!