July 18th, 2011
South Africa is a beautiful country with many faces and travelling to Cape Town one of the most popular and largest cities in South Africa you will notice that there are a thousand different ways to experience this part of the country.
I have been to South Africa in the beginning of 2011 in the mointh of January which is one of the best times to travel because of the great weather although prices can be rather high.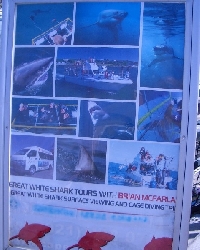 Trip to Cape Town
Stellenbosch and Cape Town were the two destinations I stayed at because I visited a collegue of mine who teaches at the Stellenbosch University.
Stellenbosch is for the Cape Winelands and if you are staying in Cape Town I would definately recommend the drive to visit for example Franschhoek which has a strong wine culture and offers a beautiful scenery to travel to.
Back to Cape Town I loved the coast but the inland offers some of the best safari tours you will be able to experience in Africa so it's hard to make a choice between the two. Whatever you do make sure to check out Cape Town's Only Free Roaming Big 5 Safari and book your safari with Fairy Glen, an excellent tour operator with a great staff and a lovely tour. We had an awesome safari and came really close to the animals.
The harbour area of Cape Town is also a great drawing card for the many nice shops and restaurants but also if you wan't to go for a fishing tour or maybe to you fancy a swim with the great white;)