October 20th, 2010
This year the church me and my wife attend had organized a trip to Turkey and Syria. We decided to join with a couple of good acquaintances and some other people, in total a group of 20 people.
The flight went well and after a save landing at Ankara Esenboga International Airport a touring bus accompanied us to our hotel.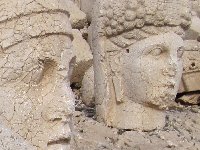 Travel Ayadiman
After spending a couple of days in Ankara we travelled towards the border with Syria making a couple of stops along the way.
One of the places we stayed was Ayadiman in southeastern Turkey where we would go on a walking trip up Mount Nemrut, near the town of Kahta, which is known for its beautiful mountain view and mysterious rock sculptures.
On the way from Ayadiman we made a stop at Kahta which is a common place to buy the necessary hiking gear and food supplies for travellers up the mountain.
The walking trip was great and we had a very nice time as a group sharing travel experiences and of course enjoying the beautiful scenery.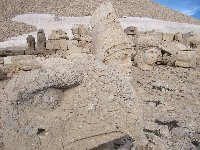 Travel Ayadiman
The rock sculptures near the peak of Mount Nemrut are very impressive and the legend goed that they are all placed around a royal tomb which even today hasn't been exactly defined.
The religious sculptures which once were erected wit pride today are a display of giant heads all over the site and our guide explained us that they have been removed from their bodies and scattered over the mountain site by vandalists. All the same, Mount Nemrut has made it to the UNESCO world heritage list and it's definitely worth a walking trip up the mountain.