August 6th, 2011
During our family holiday in Turkey we stayed at the wonderful Sherwood Dreams Resort in Antalya where especially our kids had a great time.
The outdoor swimming pool activities and attractions were an important reason why we chose to stay at the Sherwood Dreams Resort since we travelled with three young children.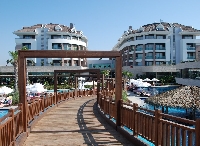 Travel Guide Antalya
There were plenty of relaxing moments for mom and dad as well and we couldn't have been more satisfied with the service the hotel offered, from pool towels to great rooms and excellent hotel meals.
If you're planning on spending a family holiday in Antalya this is definately a place you wan't to consider. We also went on a fabulous camel ride which left the hotel and was a lot of fun!