March 7th, 2011
I would like to share a travel experience with you from my latest trip to Cappadocia in Turkey, and in particular Goreme, famous for its Goreme National Park being a UNESCO World Heritage Site.
The landscape of Cappadocia is dominated by a skyline of hoodoos, also known as fairy chimneys or earth pyramids. The best way to fully enjoy this gorgeous landscape we found was by going on a Hot-air-balloon flight.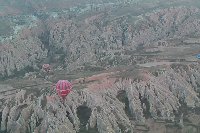 Travel Blog Goreme
We booked an amazing day trip through a website called anatolianballoons.com and found a lot of information on their website, pictures included.
Once in Goreme, located in the heart of Cappadocia, and checked in to our hotel we could actually see the balloons fly over the hotel's terrace! Wow, we had to do that too:)
On the day of our balloon flight we were picked up by our hotel by a representative of the touring agency around an hour before sunrise. The whole thing was really friendly and after drinking some tea and enjoying even a little breakfast we were introduced to our pilot and fellow passengers.
The view from our basket was amazing and I'm pretty sure that other than in Cappadocia you won't be able to find a similar view filled with these gorgeous fairy chimneys. The flight itself lasted over an hour and was breathtaking. I tried to get some clear pictures to add to the gallery below and you can just scroll down or click on them if you're curious.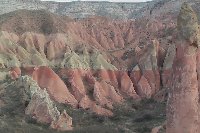 Travel Blog Goreme
I would definately go on a balloon flight tour again because it really will give you a birds eye view and an amazing sunrise experience. After the flight we were accompanied by the anatolian balloons staff back to our hotel in Goreme.