November 25th, 2010
The Cappadocia Region in Turkey is one of the most impressive landscapes on this planet as rock houses, rock-cut temples and entire underground villages were built as far back as the Bronze Age.
It's a region that any self respecting traveller should visit at least once as we concluded after spending an amazing holiday in Cappadocia.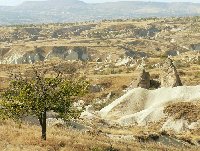 Travel Cappadocia
We landed in Antalya on the Mediterranean coast of southwestern Turkey, a big city and a popular travel destination.
From Antalya where we stayed at the Elis Hotel we were picked up by bus and started driving north in direction of Konya and the Central Anatolia Region of Turkey further inland. In Konya we visited the Mevlana Museum, a religious site which is of great importance for the locals and decorates the cityview with its beautiful green dome.
In Konya we had lunch and finally tasted some real Turkish kebab, what a delight! We continued our way deeper into the Cappadocia Region and headed for Ürgüp where we stayed at the Gomeda Hotel. The rooms were well decorated, clean and even had a seperate livingroom.
Next stop on our Cappadocia travel schedule was the Kaymakli Underground City dating back 4000 years and made of numerous villages where people lived underground, all positioned along a network of underground tunnels.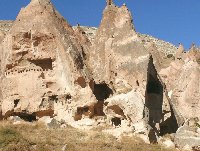 Travel Cappadocia
Then Göreme, located in the heart of Cappadocia and world famous for it's fairy chimney rock formations which makes the scenery around this town even more magical. Göreme Valley is a key feature for Cappadocia tourism and tourists visit the rock formations and chapels of the Göreme National Park everyday.
A ten km drive from Göreme and on the road to Avanosn we visited the Zelve Monastery, also famous for its curious rock formations but not only. In Avanos we participated in a pottery baking workshop which was a lot of fun.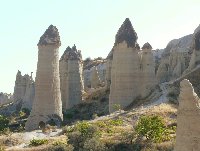 We also visited a traditional Turkish caravanserai which nowadays would be a sorth of roadside motel for people travelling and needing a place to stay. In the neighbourhood of Aksaray we visited the monumental caravanserai of Sultanhani and had a guided tour there.