July 31st, 2011
This April me and my husband visited the region of Cappadocia near the city of Kayseri in Turkey and enjoyed a beautiful holiday in a very unique setting. One of the highlights of our time there was the balloon ride we booked with Maviay Ballooning.
The tour was an early morning activity but at the same time a surreal travel experience which gave us the ultimate souvenir; a ballooning flight certificate!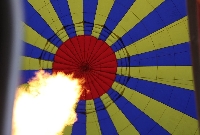 Vacation in Kayseri
We stayed in Kayseri which on its own has some nice tourist attractions like the Kayseri castle which played an important role in the Sultanate of Rum following the Great Seljuq Empire but most people who stay here are on their way to the Cappadocia region to visit its beautiful rock sites.