October 30th, 2010
A great day trip from downtown San Francisco and a legendary one at the same time would be the Alcatraz Prison tour.
Just a ferry ride away from the city there's Alcatraz Island and ok it might be less scary than the shocking prison stories told about this island haunted by white sharks and extreme currents, it still is a must visit for any tourist!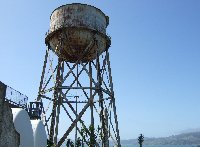 Trip to San Francisco
It was really cool to actually enter a prison cell on Alcatraz and see how people used to make it through the day once they were locked away in the world's toughest prison.
Luckily we had a guided tour around the island so we could get some extra inside information about all the different rooms and how the prison policy was at the time.
It was a very interesting day trip and just as fun as a ride on the San Francisco Grayline tram or a visit to the Fishermen's Wharf, both great tips for your stay in San Francisco by the way!