May 19th, 2011
Hi Guys,
I'm writing you from my appartment in San Francisco where I moved to a couple of weeks ago and I'm loving it! For now I will be staying here the next couple of months but who knows I might end up living here forever.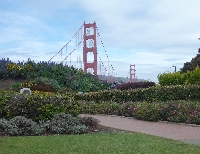 Vacation in San Francisco
This month the weather was great and I met up with some friends to go to the beach which was very nice. The pier area is a perfect place to head to if you want to go for a walk and enjoy fresh air.
In the morning I love to go running and I still love the view of the Golden Gate Bridge so I always plan my little break at this angle where you get a beautiful view of the bridge and the passing boats, so relaxing.
O and it took some getting used to but now I really love the trams running up and down the hills! I don't know if I will be driving myself anytime soon but you never no. Love San Francisco and I can only say that it's a great place with a very relaxed but urban atmosphere and the people are great!