November 1st, 2010
In August I left for Chile with my best friend. We had made a list of the places we wanted to see but besides a hostel for our first week we didn't plan much.
When we arrived in Chile the first city we stayed in was Santiago but after two days we decided to move to the coast and rented a car to get to Valparaiso.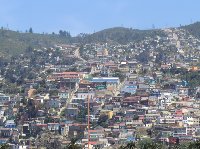 Travel Valparaiso
Valparaiso is a very artistic place and its the perfect city in Chile to go sightseeing by foot as you will literally discover a piece of art in every angle.
The combination of the street grafitti and the beautiful architecture of the buildings in the centre of Valparaiso even made it on the UNESCO list of world heritage sites for its urban design.
Out of our entire stay in Chile the city of Valparaiso really stuck with me and I would love to return there one day.