March 31st, 2011
Iquique lies on the Pacific coast in northern Chile and is not only a very laidback town to visit when you're travelling down the coast of Chile but also a nice place to stay if you wan't to head into the Atacama Desert like we did.
Unfortunately this holiday wasn't much about sightseeing and staying around long.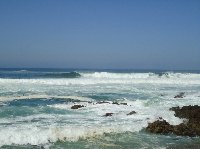 Trip to Iquique
The reason I travelled to Chile last January was actually not as laidback as a town like Iquique would imply for but nonetheless I had the time of my life!
Me and some of my collegues participated in the Dakar Atacama Desert Rally which actually crosses this arid but incredible place. Of course our fans, friends and family were able to have some sort of a holiday during their time in Chile.
The Dakar Rally 2011 Argentina-Chile was amazing eventhough the journey at times was quite challenging and put us all to the test. The rally started in Buenos Aires and ran inland all the way up to Arica, north of Iquique in Chile from where the race made its way back to Buenos Aires along the Pacific Coast passing places like Antofagasta and Copiapo.