December 10th, 2010
The Atacama Desert in one of the most arid but fascinating landscapes in Chile and when you´re planning a backpacorkers holiday or longer stay in Chile it´s definately a place you might want to visit.
The landscapes are so dramatic and impressive that you almost become one with nature. I had this feeling of complete calmness and admiration coming over me when we visited the Valle de la Luna, or Valley of the Moon, a gorgeous valley filled with sand and rock formations reminding of a real moon landscape but righ in the middle of the Atacama Desert.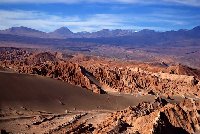 Travel Blog San Pedro de Atacama
The best time to visit the Valley of the Moon would be around sunset when the colours are just amazing and turning from bright orange to velvet red and intense pink.
Touring an area like the Atacama Desert in Chile should only be done by tour because of the rough road conditions and unless you´re driving a 4WD yourself it doesn´t seem like a place where you would like to be stranded..
The tour my husband and I went on also included visits to some of the nearby lakes like Laguna Miscanti and Laguna Chaxa located in the Salar de Atacama where we spotted some of the many elegant Andean flamingo´s.
I would also recommend a desert tour or a trip to these stunning lakes in the northeastern part of Chile to travellers who want to combine their stay in Chile with a visit to Bolivia or Argentina since the Salar de Atacama is close to both borders.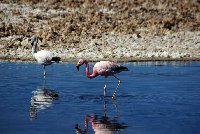 Travel Blog San Pedro de Atacama
A good place to spend the night in case of travelling in eastern direction would be San Pedro de Atacama which lies on the main road from Argentina to Chile but at the same time is only a short drive away from Bolivia so that you can keep your options open.
A good place to stay in San Pedro de Atacama is the Incahuasi B&B, a few km out of the center but a very friendly staff and they have bikes for rent!