January 17th, 2011
The northeastern part of Chile is a beautiful area to travel through and especially if you want to cross the border with Bolivia sites like El Tatio are worth a visit.
The El Tatio geyser field lies within the Andes Mountain Range and offers a unique landscape which you can visit on different tours. The thing I liked most about El Tatio was the pool where we could bath in the hot geyser water!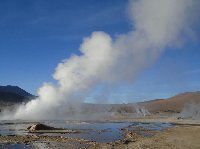 Trip to El Tatio
From Chile and the geyser field our bus tour continued through the Atacama Desert in direction of Bolivia where another miracle of Mother Nature was waiting for us; the Uyuni Salt Desert.