November 5th, 2010
The Blue Mountains are a popular travel destination for tourists coming to Sydney as this beautiful landscape is located just about 50 km from the capital city.
We decided to stay in Sydney first to do some sightseeing and if we had some time left we would have planned a day tour or something like that to the Blue Mountains.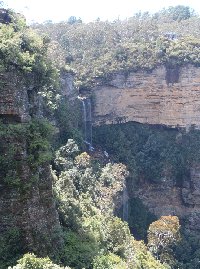 Travel Guide Blue Mountains
We did have a rental car but my fiance figured it would be a more intense experience to join a guided tour since we didn't know that much about the Blue Mountains and its history.
The only thing I had remembered from our Lonely Planet pocket guide, well pocket..it's huge!..were The Three Sisters, an amazing rock formation with an intriguing story.
The from origin Aborignial legend tells the story of three sister who all fell in love with men from a different tribe were turned into stone by their trbe chief to protect them from doing something what in their culture was wrond. Unfortunately the man wasn't in time to release the three sisters from this torture as he died early in a battle leaving them to look out over the Blue Mountains, for eternity.
A beautiful story which is told by every travel guide driving up to Jamison Valley where the rock formation of The Three Sisters symbolizes both the almost breathtaking beauty of the place and the fear of it which lies in the Aboriginal story telling.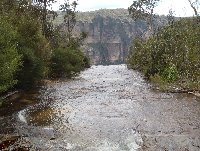 Travel Guide Blue Mountains
We loved the Blue Mountains day trip as it was a completely different angle of Sydney, such a dynamic city with so much to do and see.