November 18th, 2010
Our Vietnam holiday started in Ha Noi from where we travelled to Ha Long, known for its gorgeous Ha Long Bay, a mystic bay with lagoon greenish waters, ancient vietnamese vessels and impressive limestone rocks rising out of the water.
We had prebooked a cruise through Ha Long Bay with Emeraude cruises because we didn't wan't to hurry through this beautiful place but really enjoy its scenery and spend the night in the bay.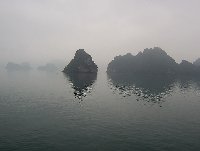 Tours Ha Long
The room on board of the Emeraude cruise ship was nicely decorated and the staff had even left sweets on our pillows.
Outside on the deck there was enough space to sit and enjoy the panorama and let your fantasy carry you away. We both had never been on such an enchanting cruise before and would love to return to Ha Long.
In total the Emeraude Ha Long Bay cruise we went on lasted for two days and one night. We were picked up at Hanoi Airport and driven to Ha Long, which by the way was a great ride and an opportunity to enjoy some of Vietnam's rural sides.
We were welcomed by the Emeraude staff with a cocktail and had lunch at the cruise ship's restaurant, a great way to start our trip. The cruise included passing a lot of Vietname fishing villages and toured some of Ha Long Bay's most famous caves and rock formations. We also had the opportunity to go for a swim or kayak in Ha Long Bay.