November 28th, 2010
The Sa pa District in northwest Vietnam is a beautiful destination and a great place to go trekking for the stunning scenery.
Sa Pa is located in Lao Cai Province and lies about 350 km north of Hanoi and definitely a great place to visit if you're travelling up north or planning on crossing the border between Vietnam and China.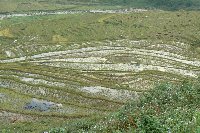 Tours Sa Pa
But if you're not that much of an adventurous traveller and prefer to go on a tour you could easily hop on one of the many Sa Pa Tours which depart from Hanoi.
I visited the Sa Pa District by myself but encountered other tourists on the way as well. Sa Pa Town might be a bit isolated but for me a great place to visit because I was curious about the local minorities living there and wanted to experience the real rural mountain villages of Vietnam.
Day and more day tours are available on the web so you could match a package with whatever need and preferences you might have! There are Sa Pa tours for low budget travellers, hiking lovers and even luxury travel packages.
Travelling by myself was a personal choice I made and I loved not planning my trip and simply living day to day meeting the locals and getting to know the culture of the Vietnames mountainvillages.