December 15th, 2010
Da Lat is located in the south of Vietnam and is known for its unique character, in everything. While the valleys of Da Lat are often covered by a veil of mist its curious architecture and rich botanical gardens gave Da Lat its nickname, the City of eternal Spring.
And talking about architecture in Vietnam, this gem in the south of the Central Highlands has it's share of strange creations, leading me to discuss the Guest House, or the Da Lat Crazy House also known as Hang Nga guesthouse.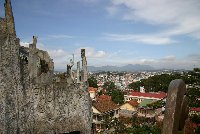 Trip to Da Lat
This guesthouse has become one of the most curious tourist attractions in Da Lat and we were amazed by this gorgeous Gaudi inspired fairy tale tree house.
The whole house, built by Vietnamese architect Dang Viet Nga, is like a labyrinth of tree branches, wild flowers and carved wooden wonders. The best part for me was reaching the top of the Hang Nga guesthouse and looking out over Da Lat city.
The most impressive place I've stayed at in Vietnam and a really unique way to experience Da Lat.