November 24th, 2010
We left our cruise ship in Hanoi behind after a very satisfactory travel adventure in Ha Long Bay and travelled south along the eastern coast of Vietnam to reach Hai Phong.
Hai Phong is the third most populous city in Vietnam and after a day spend in the city we longed for a day trip like the cruise trip in Ha Long and decided to rent some bicycles!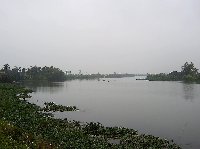 Vacation in Hai Phong
The bikes were the perfect way to explore the more rural areas and soak up a completely different side of Hai Phong which like Ha Long is also a coastal city.
Our cycling tour led us along rice fields, local cemetaries and little villages located in the rural parts of Hai Phong.
It was a very calming and interesting experience and I would recommend exploring at least a part of your Vietnam travel adventure by bike, it's a great way to see a lot and get in touch with the locals.