November 21st, 2010
During the first two weeks of this month my girlfriend and I made a trip from San Francisco to Los Angeles by car, road tripping along the California coast.
We had great weather and tried to see as many places along the way. We also stopped in some of the smaller, not always less turisic though, places like San Simeon.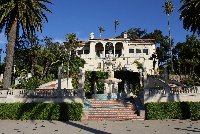 Travel Guide San Simeon
San Simeon is located on the Pacific coast about halfway between San Francisco and Los Angeles, so a perfect place to take a break from driving and relax.
The key feature and major turist attraction in San Simeon is the Hearst Castle, a roman style mansion built upon the hills at the beginning of the 20th century.
I added some pictures of the tour we made around Hearst Castle featuring its beautiful Neptune Pool and some other decorated rooms. It was a nice day trip to the castel and overall we had a great stay in San Simeon but I guess one day will be enough to sightsee everything and there are a lot of nice places just like this in California.