October 29th, 2009
Many people told us Margaret River is a great place for wine and they were right! The town is just lovely and it is surrounded by many wineries. We went to Voyager Estate winery and we tried 3 different white wines and 3 red wines and we ended up buying a bottle of Chenin Blanc that was just great!
But Voyager Estate is not the only winery in Margaret River and the entire region is filled with good restaurants, hand made products (fudge, chocolat, jams and the latest Ugg boots all are made in this area.) and the best wine tastings.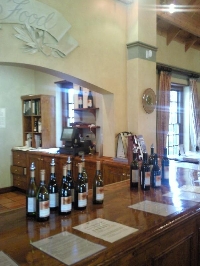 Voyagers Estate
Other known wineries include the Leewin Estate, Vasse Felix and Xanadu Estate. All the wineries are found within half an hour drive and from the main road you can choose wich winery appeals to you!
Cellar doors close around 5pm so if you're the driver be sure to get at the tasting at little earlier than that:)
Besides wines the vineyards often produces their own dips and gourmet tapas like olives and cheeses. For example Xanadu Estate has its own restaurant and Leewin Estate aswell.
We did our wine tasting in the late afternoon and bought some wine and a great cooking book to try out the gourmet trics at home!