October 27th, 2009
The Margaret River Region is known for its wineries and great forest scenery. On the way from Margaret River to Walpole and Denmark the road takes you through an enormous woodland of tingle trees which seem to reach as high as the eye can see. The lonely planet described the roadtrip in this area as magical and it sure was!
The tall trees almost make you forget about the hopping kangaroos and we were woken up by a mother and her joey crossing the road just in front of us and we were so lucky they made it in time to the other side because if we'd been just a second closer to them we would definitely have hit them..a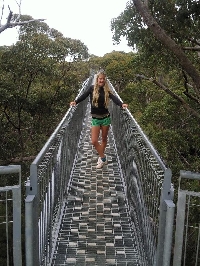 On Top of the Trees
After some hours of driving we arrived at the Warpole National Park famous for its Valley of the Giants where hundreds of tingle trees and eucalyptus trees can be seen from above through the parks Tree Top Walk.
The Tree Top Walk takes you up to 40 m and gives you the opportunity to observe the Walpole birdlife from a birds eye!
We spend half an hour on the walk and then visited the Ancient Empire at the exit of the Tree Top Walk. The Ancient Empire houses a few of the biggest tingle trees and some of them are so huge that you can walk through them by a hole between their giant roots!
The Walpole National Park closes around 5pm but tickets are sold untill 4.15pm.