December 8th, 2010
Just came back from an awesome holiday in Australia and the best roadtrip ever, better known as the Great Ocean Road! I travelled together with two mates of mines and we had so much fun.
We had rented a car at the airport through the internet which worked out fine for us, the car we rented was from Europecar by the way, and travelled from Melbourne up to Sydney but before heading in eastern direction we could not forget about the Great Ocean Road so we booked one of the many tours available.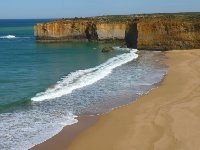 Travel Lorne
The comfort of the bus tour wasn't the best and travelling the Great Ocean Road by car would have been a better option but in that case it would have been better to arrive in Adelaide and start driving to Sydney from there.
The scenic part on the other hand was amazing and the tour guide gave us enough time to take pictures and do some sightseeing around the different sites. We also got a map handed to us explaining the exact location of the Campbell National Park and the different rock formations like the world famous Twelve Apostles.
It was a great roadtrip and the tour in general was good but if you wan't more space and freedom while travelling down the Great Ocean Road I would suggest renting a car or campervan and splitting the trip in half. A great place to stay while travelling is Lorne, but Apollo Bay is also nice, two beachside towns with enough to offer as for markets, shops and restaurants.