March 4th, 2011
Like many other Asian countries Sri Lanka has some beautiful historical archeological sites that you can visit like the temple ruins my boyfriend and I went to see near Hettipola, in northwestern Sri Lanka on our backpacking adventure through this amazing country.
Today the temple site is known as Panduwasnuwara and it was founded by King Parakramabahu the Great in the 12th Century A.D.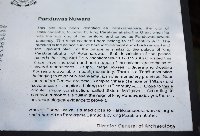 Holiday in Hettipola
At that time the area was called Parakramapura, the city of Dakkinadesha and the structures show a significant resemblance with the royal palace that the king had built in Polonnaruwa in the more central part of Sri Lanka.
From Hettipola it's a short ride, just a few kms, to reach the historical site of Panduwasnuwara but it might be hard to find a place to stay, as in a guesthouse or hotel.
Luckily we came across the Resthouse entering Hettipola and our room there turned out to be clean and big enough for the two of us with our own bathroom since we were the only people there at the moment. Great timing!