March 22nd, 2011
We had waited for months to go on this trip but this March it was finally time to bag our bags! My girlfriend and I always wanted to travel to Brazil and if possibile partecipate in the carnival celebrations.
Nothing they say about the Rio de Janeiro carnival parade is even slightly esagerated and it really is the party of the year!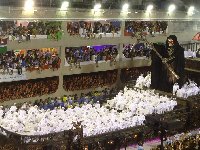 Holiday in Rio de Janeiro
The Sambodromo, heaven to all carnival parades around the globe and an arena built to show off the hard work done by the Samba Schools in Brazil who compete all night long to be talked about as the best carnival attraction of Rio de Janeiro and to be at least part of the Parade of Champions where the five best schools will battle each other for victory.
This was the place we wanted to be during carnival in Brazil so we were so excited and the show was amazing!! The arena was filled with people cheering and shouting at the partecipating schools which had done an amazing job!!
I would recommend visiting Rio de Janeiro during carnival anytime because we will be back and don´t let people scare you off too much about not being able to bring your camera ecc because we did and made some incredibile pictures.