March 22nd, 2011
The perfect and fastest way to get from London to Paris is by train and a ride with the Eurostar is far more comfortable than an hour on a plane of any lowbudget airline available.
In only two hours and 15 minutes my husband and I arrived at the train station of Paris Gare du Nord, maybe not as fast as a flight to Paris but you're right in the centre without having to take a cab or bus.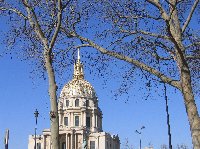 Travel Experience Paris
The idea to spend a long weekend in Paris came to us a week before and being able to jump on a train and not having to worry about anything else, like a boat ride or fueling up your car, helped us enjoy the whole trip even more.
Paris was beautiful and we had a great three-day stay in the City of Love. We had a hotel, Hotel Avalon was the name, at just a short walk from the Gare du Nord train station which worked out great.