November 19th, 2009
After Hobart we headed to Eaglehawk Neck and Port Arthur. We stayed in the weirdest Best Western ever and the room we got at first was just terrible. Not only did the hotel look like it needed some serious renovation but the whole place just smelled bad. The sheets of the bed had staints on it and were actually ripped not to speak of the groce bathroom.
We went down to reception straight away to complain about the room. After a double check by one of the hotels staff members we were assured that staints are completely normal and that this was the kind of room you pay for at the Eaglehawk Neck Best Western. We surely weren't going to stay in the room so in the end our room got an upgrade across the corridor. You won't believe the difference! Moving from room 3 to room 4 seemed like moving into anther hotel and the accomodation looked way better. The room actually got a samsung plasma and a kingsize bed. In the end that room and the friendly owner were the only positive things about the whole hotel so my advise here would be simply not to stay here! And never book your room through the internet as you might get room 3, accomodation from hell:)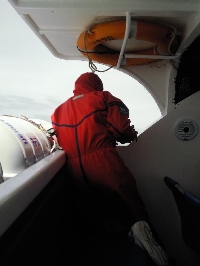 Tasman Island Cruise Port..
In Eaglehawk Neck we booked a sea charter around the Tasman Island. The next morning we drove up to Port Arthur where we got on a bus back to Eaglehawk Neck harbour. From there we proceeded the sea charter by boat, and what a boat! The speed on this military thing is amazing and as we sat down at the very front we sure got some of the action!
The coastline around the Tasman Island is simply mind blowing and besides amazing coastal sculptures and blowholes you'll be surprised of the curious wildlife. Not only did we see loads of birdlife like the shy albatros but we also visited a seal colony!
The boat got so close we almost could touch the seal with our camera lenses, amazing! Furthermore we even spotted a feeding whale and a group of dolphins!...............WOW