April 2nd, 2011
Magnetic Island is the perfect island getaway if you're staying in Townsville or travelling up the east coast of Australia in direction of Cairns.
Besides the fact that Townsville itself can't be called spectaculair Magnetic Island has way better beaches so just book your ferry tickets and take the ride!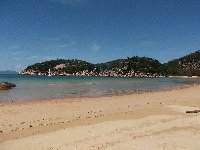 Travel Blog Magnetic Island
The ferry ride wont take you long and in just about an hour you will arrive at Magnetic Island.
I would recommend renting a car before heading there because some parts of the island are pretty deserted and to get from one place to another can be difficult.
There are great beaches and bays on Magnetic Island but you can also visit a koala sanctuary where you can get your picture taken with these incredible Aussie creatures and other reptiles and birds.
Some of the bays that are well worth a visit; Horeshoe Bay, Radical Bay and Florence Bay.