April 21st, 2011
April 2011, Kenya Tours and Safaris
I went to Kenya on a family trip and during that holiday we visited several wildlife parks and moved to different lodges and hotels in order to be able to visit the several wildlife parks and other tourist attractions.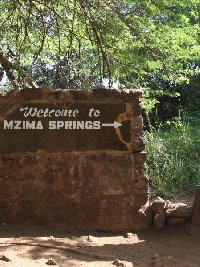 Where to go in Tsavo
I added Tsavo as the city for this blog since it was the first park we actually visited in Kenya. We stayed at the Ngulia Safari Lodge which was a perfect base for our trips since this lodge is located right in the Tsavo West National Park.
The scenery in Tsavo West was beautiful with its red dirt roads and amazing wildlife. We soon encountered zebra's, elephants and other animals. We also visited the Mzima Springs which are natural springs located within the national park and most of the time included in your tour or safari.
From Tsavo we headed to Amboseli Sopa Lodge our relaxing accomodation and base to visit the Amboseli National Park at the foothills of spectacular Mount Kilimanjaro. Again the lodge was comfortable and very clean. The staff was so friendly and the food of high standard.
After breakfast we started our day with an early morning jeep safari to spot the local creatures in the park but before even heading to the jeep we allready had spotted a group of hyena's right from our breakfast table! We knew this day was going to be incredible..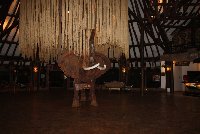 Where to go in Tsavo
During our holiday in Kenya we also visited Lake Naivasha which lies within the Great Rift Valley and is a great place to spot the animals coming to the basin to drink. From crocodiles to giraffes, lions, hyena, antilope and hippo, you will all spot them at Lake Naivasha, from your touring bus of course. Well actually we got off the bus on quite some occasions but make sure to be prepared and careful at all times.
Another hot spot to observe wildlife is Lake Nakuru which is famous for its pink flamingo's and grazing rhino's. We spotted a whole pack of rhino's and we were really lucky because they came close to our van and simply continued to graze so we could take a lot of nice pictures.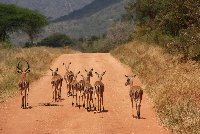 One of the most beautiful places we stayed at was the Safari Park Hotel in Nairobi which also had a great location with a beautiful garden. We did do some sightseeing in Nairobi City as well but the last few days of our vacation were mostly dedicated to exploring the Masaai Mara National Park near the border with Tanzania. I loved this park for its cats and as soon as we entered the park we allready spotted a pack of cheeta's sunbathing and climbing up the trees. I didn't want to leave!
Looking back the whole travel experience in Kenya was so special and so different from other trips I went on, I would love to come back again and relive this gorgeous country.