February 18th, 2010
A travel destination of a lifetime for those who want to spend a relaxing holiday together with their partner or friends. In Kenya you will taste the real African culture and not just bad and shocking things like a lot of television documentaries make you believe.
There are two sides to this country and of you can't deny the poverty and bad conditions some of the locals live in but there is also a part of Kenya which shows a completely different side of it.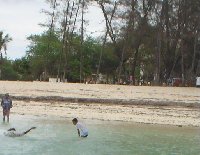 Local kids playing around
Staying in one of the seaside towns on Kenya's eastcoast you will be able to see some of the most stunning palm beaches with the most clearest water and unforgettable panorama's! Heading from this setting more inland to visit the smaller towns can be shocking and we, for example, saw little children drinking water out of mud pools and old women kneeling down asking for some help or food. You won't believe how some tourists are able of ignoring these people which is terrible!
Experiencing these situations made me feel so grateful for the things we have but on the other hand I almost felt guilty for how we're able to complain about the smallest things.
I think this is a lesson Kenya wants you to learn because it really isn't just a poor country. Driving around we visited some of the most richest parts of nature land that Mother Earth has given us and you will be able to spot some amazing wildlife! Beside nature we also visited some acquatic parks and many colourful markets.
For us our trip to Kenya was really special and we have a lot of good memories of this beautiful country with its lovely people and amazing nature.