May 26th, 2011
In the first week of May my husband and I travelled to Kenya for a well deserved holiday in the wild but of course with a bit of luxury to unwind and forget about work and other worries.
We had booked an all inclusive holiday at the Mara Sopa Lodge near Narok where we stayed for 12 days and had a lovely time. The location of the lodge was perfect and as its name reveals near the Masai Mara Game Reserve.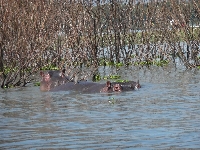 Holiday in Narok
We went on several jeep safaris with other hotel guests and had an amazing wildlife experience. We even spotted a lion and were able to park our safari van at about two meters distance so we could observe and take pictures.
It was an amazing journey and we learned a lot about the Masai Mara, the people who live there ( we also visited a Masai community) and of course its incredible wildlife. We would also love to return to the Mara Sopa Lodge which was a real pleasure. The hotel had a wonderful staff, nice rooms and a large pool to cool off in after a long day of touring.
Narok is located on the way leading from Nairobi to the Masai Mara Park and is probably the last larger city before entering the park so if you want to combine a relaxing holiday with a visit into town this might also be a good option for that reason.