January 13th, 2010
From Canberra the plan was to head to Sydney with a stopover in Wollongong. Eventhough the hotel we stayed in was picture perfect, the Medina Executive on Market St, we didn't find Wollongong worth the stopover..
The centre is pretty small and the range of nice places to eat or have a drink is very limited. I also found the streets were really shabby and we spotted a lot of weird people that were quite lost..We didn't felt at ease at all walking the streets of Wollongong at night and we surely wouldn't reccomend a stay here if your on your way to Sydney. In the end its only about 90 k away from Sydney so you might as well drive the whole way.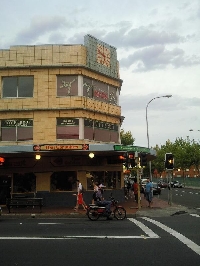 Travel Wollongong
The only thing that is worth a visit is the Grand Pacific Drive. This road takes you from Wollongong through a lot of tiny towns like Bulli and leads you to the coast. The highway is actually positioned on the outher cliff side so there will be nothing between your car and the pacific. Pretty amazing!
At the end of scenic drive you can decide weather to take the highway to Sydney, the quicker option, or to continue the Grand Pacific Drive in direction of Oxford which will lead you eventually to Sydney as well.
At this junction you should definitely pull over to watch the mind blowing tandem hang gliders which jump of the hill at Stanwell Park. The flight is amazing and takes you high up in the air above the Grand Pacific Drive with an unforgettable panorama beneath.