May 11th, 2011
I went on a city trip to Valencia to visit one of my best friends who moved there two years ago with his girlfriend. Since I was going to plan a holiday in Spain I decided to take in a visit to Valencia as well and chat up with my mate.
Valencia is a very nice city to visit and perfect if you're travelling along the east coast of Spain down from Barcelona to Malaga for example.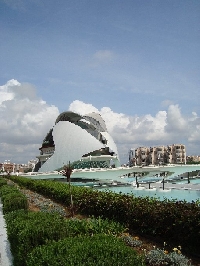 Where to go in Valencia
I stayed at the Valencia Pension Universal which had a top location and was very well connected by public transport.
I liked the modern architecture of the Ciutat de les Arts a cultural complex with an incredible scenery. It reminded me a lot of the Opera House in Sydney and especially at night this is a huge tourist drawcard for Valencia with the beautiful light effetcs and water reflections. Completely different from the Ciutat de les Arts but very appealing as well is the city centre of Valencia with gorgeous historical buildings like the Cathedral of Valencia and the Town Hall.
I was glad to finally make the trip to Valencia because I had a great time both with my friends as enjoying this coastal city.