June 17th, 2011
After a flight with Ryan Air we landed in Barcelona Girona Airport from where it were another 40 km by bus to Lloret de Mar where we would be staying for the entire week.
It was our first high school trip abroad and everybody was really excited about sharing a hotel room and of course going clubbing in Lloret de Mar.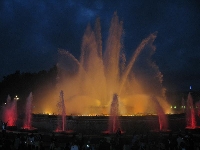 Tourism Barcelona
Our teachers were really cool and we had a lot of time off in the evening so that we could meet eachother and spend some time together without having to do assignments.
From Lloret de Mar we made a trip to Barcelona where we went to see the stadium of FC Barcelona and the cool thing was that we were actually in Spain when Barcelona won the Chiampions League so there were a lot of celebrations and a great atmosphere in the city.
Soccer fans had poured shampoo into the fountains which was really cool as the water turned blue and red into the Barcelona colors so were really lucky with the time to travel to Spain. We weren't as lucky with the weather but this also got better during our stay there and the only time we had some rain was when we visited the Cathedral of the Sagrada Familia but there were too many tourists anyway to get a good look at it.
I liked both Lloret de Mar for the beach and the clubs as Barcelona for many things and it was a great combination of two travel destinations combined.