May 11th, 2011
On the opposite coast of the United Arab Emirates we find the city of Fujairah located on the Gulf of Oman instead of the Persian Gulf like are Dubai and Abu Dhabi.
The Fujairah International Airport is near the city but if you are driving into Fujairah from Dubai like I was then it might be taking in consideration to spend at least a few days there because of the two hour drive.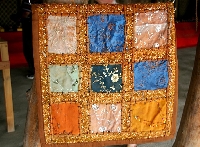 Tours Fujairah
The trip from Dubai to Fujairah is on sealed roads throughout so you won't find any difficulties there and it might also be nice to depend on your own transport while in Fujairah since taxi's can't be called through a booking system or anything like that, you just have to flag one down if you spot one.
While Abu Dhabi and Dubai are two modern booming cities Fujairah is known for its oil and therefor also an important region in the United Arab Emirated. You will see a lot of construcion work going on though as resorts and other buildings are a number one priority to boost the local economy.
As for things to see when you're on a short vacation in Fujairah there are some places you shouldn't miss. A well known tourist attraction is the Fujairah Fort but also the Fujairah Museum and Heritage Village are recommended if you want to learn more about the local customs.