May 12th, 2011
From Anaradhapura it isn't far to Habarana and if you wan't to go a jeep safari through the jungle forests of Sri Lanka this is a good place to come and spot the elephants.
I signed up for a group tour which turned out to be a lot of fun and I met some really friendly people that day.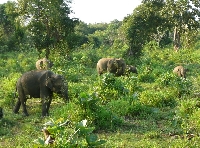 Trip to Habarana
As for the elephants I would recommend Habarana to anyone as we got some amazing close-ups of these gorgeous animals.
From Habarana I travelled a little further south, just over 10 km, to reach Sigiriya where I would be staying at the beautiful Sigiriya Hotel with an incredible view of the ancient rock fortress. If you wan't both destinations could easily be combined and will offer you a beautiful part of Sri Lanka's jungle and wildlife.