May 20th, 2011
For our honeymoon to Girba my husband and I stayed at the Fertile Mezraya-Djerba Hotel and it really was a true delight. The hotel room was decorated in a very elegant and romantic way and we had a lot of space as well.
Everything was really clean and comfortable and for those 9 days we really felt so good and we couldn't have been more in love. It almost felt like time stood still in the little paradise but unfortunately it didn't and after honeymoon it was time to fly back home.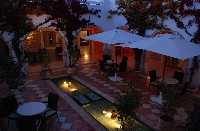 Travel Experience Girba
The hotel had a large pool with a bar area which both got lit up at night turning the place into something magical. The owner Dominique and the rest of the personnel was very friendly and went out of their way to make our stay even more memorable. So if you really want to experience the beauty and calmness of Girba I would recommend staying at this fabulous hotel.