March 20th, 2010
I didn't get to see very much of Tunisia but I did visit the local markets, something that I would really recommend if you want to taste a bit of the local ways and traditional practices.
It will be a tough job to get your right price from the merchants at the market but with a little bit of practice you will be able to figure out the unsaid rules and ways to bargain for the right souvenirs!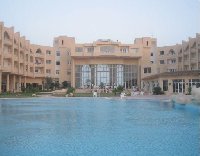 The resort in Monastir,..
In most cases divinding the asked amount by three will give you a good idea of a products real value but sometimes bargaining down is just not worth the hassle.
Monastir is a really beautiful place and especially around sunset you'll be able to spot some amazing panoramic views.