December 17th, 2009
After Port Macquarie our next stop was going to be the surf hot spot of Byron Bay but not without taking a peek at the Big Banana town of Coffs Harbour.
The national symbol of Coffs Harbour is indeed a giant banana parked in front of the official Big Banana souvenir shop where you'll find hundreds of banana toys, post cards, cup holders and things to bring home from your holiday. The Coffs Harbour Big Banana is the symbol of an adjacent lunapark where there are plenty of activities for the young ones, from go kart, to ice skating and swimming pools. Besides getting your picture taken in front of the huge banana and taking a stroll through the tacky gift shop there isn't that much to see.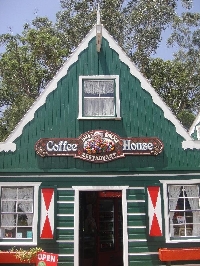 The Clog Barn in Coffs..
From the Big Banana we drove to the Clog Barn dutch miniature village 2 k in direction if town. For 5 AUD you can visit this little village and take your picture in front of all the famous dutch wind mills and castles. I'd just take a look in the souvenir shop in front of the village if you're into dutch culture because the miniature village is not quite worth the visit. The shop also does demonstrations of wooden clog making.
The rest of our stay we spend around the Coffs Harbour jetty and on the beach.