July 22nd, 2011
Being married to an English man I had travelled many times to the United Kingdom but me and my husband had never been to Scotland so we decided to take out a month to discover this beautiful part of the UK.
We chose to travel for a full month meaning driving through Scotland so that we were able to visit different islands and explore as much of the country as possible and we were just amazed by the beauty of the landscapes.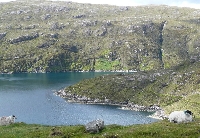 Where to go in Scotland
We started our trip in Inverness where we landed at Inverness Airport (From London you can get a domestic flight to Inverness in the Scottish Highlands) and picked up our rental car.
We left the mainland at Ullapool where we took the ferry to Lewis Island which is located to the northwest. We drove around Lewis island and Harris Island visited a great number of pittoresque places like; Carloway, Callanish, Miavaig, Valtos, Àird Fenish, Mangersta, Crowlista, Great Bernera, Balallan, Maaruig Harris, Rhenigidale, Lackalee, Ardvey, Carminish, Northton, Seilebost, Amhuinnsuidh and Tarbet from where we took the ferry to another beautiful island, the Island of Skye.
On the Island of Skye we arrived by ferry in Scalpay where we stayed in a wonderful bed and breakfast called the Highcroft B&B which had a great view of the town.
Places of (our) interest on Isle of Skye; Quirangh, Kilt Rock, Lealt, Sligachan, Sconser, Ord, Elgol, Kilmore, Ardvasar along the eastern coast of the island making our way through to Loch Moidart to reach Salen on Isle of Mull further south.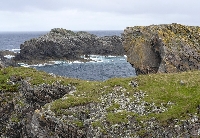 Where to go in Scotland
Other towns we visited on the Isle of Mull were Gruline, Fionnphort and some more interesting places before leaving the island behind and reconnecting with the mainland in Oban.
From Oban we drove to Glen Lonan, Inveraray, Ardrishaig, Bellochantuy, Island Davarr and Kildalloig in the southern tip before returning in northern direction. We flew back from Glasgow where we also returned our car. We did visited a lot of places in one month time and most of them weren't even listed here but instead of talking of places to go to I would suggest to take a look at my photo gallery because it really was beautiful everywhere!