July 27th, 2011
For his 30th birthday I surprised by boyfriend with a trip to Paris two weeks ago and of course I myself couldn't wait to go there either.
We had always talked about visiting Paris and even bought that Lonely Planet city edition but somehow we always got so caught up in making other plans that we never went through with the initial plan.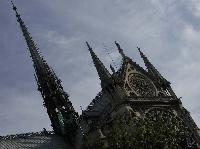 Travel Paris
On the morning of his birthday I suprised my boyfriend with two plain tickets to Paris accompanied by a note that he would be making ready for an all inclusive holiday in the city of love. Everything worked out great and we hopped on the plane that same evening.
Who would have known that an English breakfast in the morning and a romantic French dinner in the evening would make such a great combination! We visited the most popular tourist attractions like the Paris Tour d'Eiffel, the Louvre, the Champs-Élysées, and beautiful Île Saint-Louis with the cathedral Notre Dame de Paris but these are just a few of the many places to visit!