September 26th, 2011
I had a great time in Paris with my three best friends and I miss the crepes, the street signs, the way they speak..I love it all!
Paris is a special place in France as London is to the United Kingdom and like everyone who asks me if I am from London when I say that I'm from the UK I can't helping thinking Paris is the best piece of France:)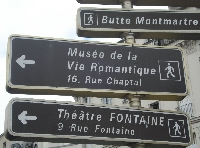 Tourism Paris
This city is just so elegant and sophisticated that you feel like you are on set or something. While back home a pancake is just a pancake here they taste like crepes.yummm
We did a lot of sightseeing and eating and our three days were over before we knew it. I would recommend visiting Paris at least once a year to make sure you never stop dreaming and can feel the magic of a place so different from others. Paris!