December 31st, 2009
London is a great city to visit for so many reasons but just a ride on their amazing red double decker busses was enough for me. I guess we toured the whole city by bus and from the second level you can great some great views.
In London we went to see all the major attractions from The London Eye, The Big Ben, Trafalgar Square and Madame Tussauds to The Tower Bridge, the Ben an Jerry's Icecream shop and the squirrels in St. James Park.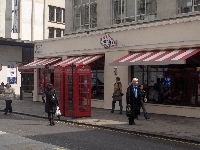 Telephone booth in central..
We were lucky we had amazing weather and it actually got pretty hot in London which I know for a fact is very rare.. Especially the squirrels in St. James Park are to cute to miss. When we walked throuh the park we saw a lot of them and they aren't too scared either so be careful:)
Ben and Jerry's on Leicester Square had us hooked for the whole holiday and there waffles and ice cream are so jummie!
We also went to Portobello Market which was real fun. They sell so many interesting things and if you're into good food and nice vintage accessories this is definitely the place to be. There are also plenty of eateries where you can avoid the crowd and relax over lunch.