December 31st, 2009
The Portobello Markets in West London are world famous for its amazing atmosphere. The market is always crowded with people looking for something unique and interesting.
The Portobello Markets are great for vintage shopping and if you're lookingg for clothes, shoes, jewellery or even vintage suit cases there are a lot of stands here.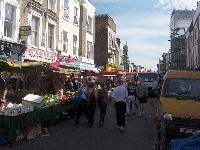 Portobello Road in London
There are numerous food stalls where you can get all kinds of dishes from Indian, Thai and Italian to Dutch pancakes and German sausages. The Portobello markets are also good for grocery shopping and there won't be a type of fruit on your list or you'll be able to get it here.
The market is visited by Londoners and tourists alike and goes straight through the heart of Notting Hill, definitely one of Londons most trendy suburbs.
The Portobello Market takes up almost every bit of Portobello Road and even if you're not here to buy anything, it's still a very lovely route to walk through and see something of West Londons most characteristic parts. Just keep in mind that on a busy saturday morning it might be hard to walk through the crowd.