January 3rd, 2010
Cape Town is South Africa's second most populated town and located on the tip of the southwestern part of the country.
In Cape Town you'll find a lot of smaller townships like the old black township of Nyanga which is located 25 km south. Nyanga is one of the poorest and dangerous parts of Cape Town and walking through this township will make you realize the enormous gap between some of the richer Cape Town suburbs and the surrounding poorer townships.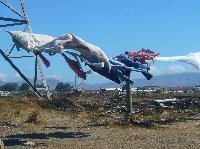 The township of Nyanga
Life here is not less fascinating though and people live an everyday struggle hoping to better their conditions. There are a lot of good organisations which operate in fields like these hoping to offer the locals a better future perspective. The Red Cross Childrens Hospital and the Maitland Cottage Home are good examples.
Of course there are also very beautiful area's around Cape Town and you will be surprised by the beauty of the South African beaches, lakes, mountains and national parks.
You can't go without a visit to the Tafelberg mountain which is truly magic and once you climb it, the view is even better! You will be able to look out over Cape Town and experience this area in an unique way. Nice beaches would be Pringle Bay or Cool Bay.