January 4th, 2010
The Iguazu waterfalls in the province of Misiones are only 18 km away from the city of Puerto Iguazu. This is also the point of departure if you're going on a guided tour to the falls.
Puerto Iguazu is also really close to the Brazilian border and for a lot of tourists a last stopover in Argentina before they make the crossing. Compared to the south of Argentina temperatures are a lot higher and the climate gets more tropical which is reflected in the landcape by the long stretches of rainforest.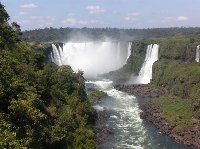 Amazing falls at Puerto..
This superbe settings makes the Iguazu Waterfalls a true eyecather and it would be almost illegal to leave Argentina without a picture taken at the falls.
The Falls divide the Iguazu river into the upper and lower Iguazu. The best ways to see the falls would be from the walkaways which allow a great view from both Brazil and Argentina as the water flows between the two countries.
From the Brazilian side you would be able to view the Argentinian side of Iguazu and viceversa. Pretty cool!